2019-11-22 | Tariki Ritual vol. 4 w/ Mother of Datura (SWE)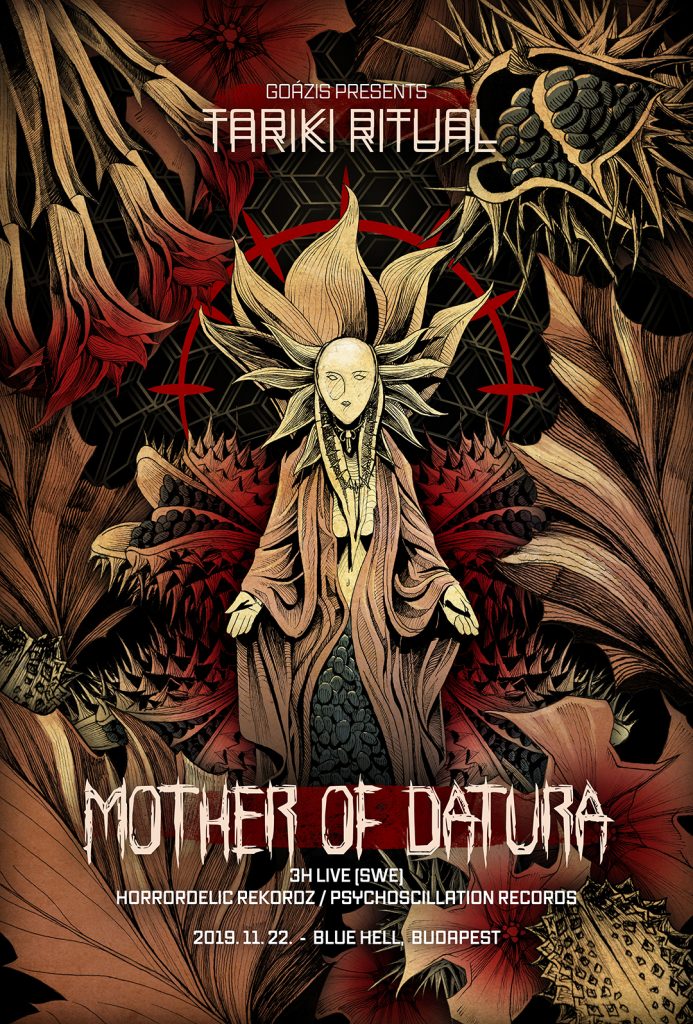 Dark…Metal…És minden mi Core!
A svéd Ludvig Herlevsson ezekből az összetevőkből alkotta meg az eszményi DarkPsy/PsyCore projektet Mother Of Datura (korábban Amnesia) néven, miután jó pár évet lehúzott-zúzott egy black metal bandában.
Először finoman kúszik be a bőr alá, hogy aztán húsba vágó és felkavaróan friss legyen az élmény akár otthon, akár a tánctéren hallgatva.
3 órás, első magyarországi fellépésének gerincét februárban megjelent első albuma és korábbi projektjének lassabb, de nem kevésbé sötét trekkjei adják majd.
És itt még nem lesz vége az albumbemutatók sorának, ugyanis az este folyamán megtapasztalhatjuk, ahogy  Alien Hardware először szabadítja rá a Jövő Prófétáját magyar tánctérre.
Külföldi vendégünk másik közrefogója a köztiszteletben álló Chemical Spoon a PsyBaBa családból. A májusi Tarikin sem spórolt semmivel, egy percig sem volt kérdés, szeretnénk-e, hogy újra nálunk keménykedjen.
A hangulat megalapozásáról pedig az Alchimechanics és Mala'kak gondoskodnak aktuális kedvenceik megidézésével.
Dark…Metal…And everything that ends with Core!
These are the ingredients that helped the Swedish Ludvig Herlevsson manifesting the ideal DarkPsy/PsyCore project, called Mother of Datura (formerly known as Amnesia), after several years blasting with a black metal band.
At first he will gently crawl under the skin just to give the listener a fleshshredding and unsettling experience in spite of the location.
His first album which was released early this year and the slower but no less dark Amnesia tracks will give the pith of his debut performance in Hungary.
You'd think that we've ran out of album presentations but You couldn't stray further from the truth because the same night we will experience live how it feels when Alien Hardware unleash the Future's Prophet first time on a Hungarian dancefloor.
The other straddler of our foreign guest will be the prestigious Chemical Spoon from the PsyBaBa family. He spared no effort in May, it was never a question that we'd like him to play hardball for us once again.
The Alchimechanics and Mala'kak will settle the mood for the Ritual as they summon the spirit of their actual favorites.