2019-02-08 | Jiriki Frequencies vol. 6 w/ Altius (SWE)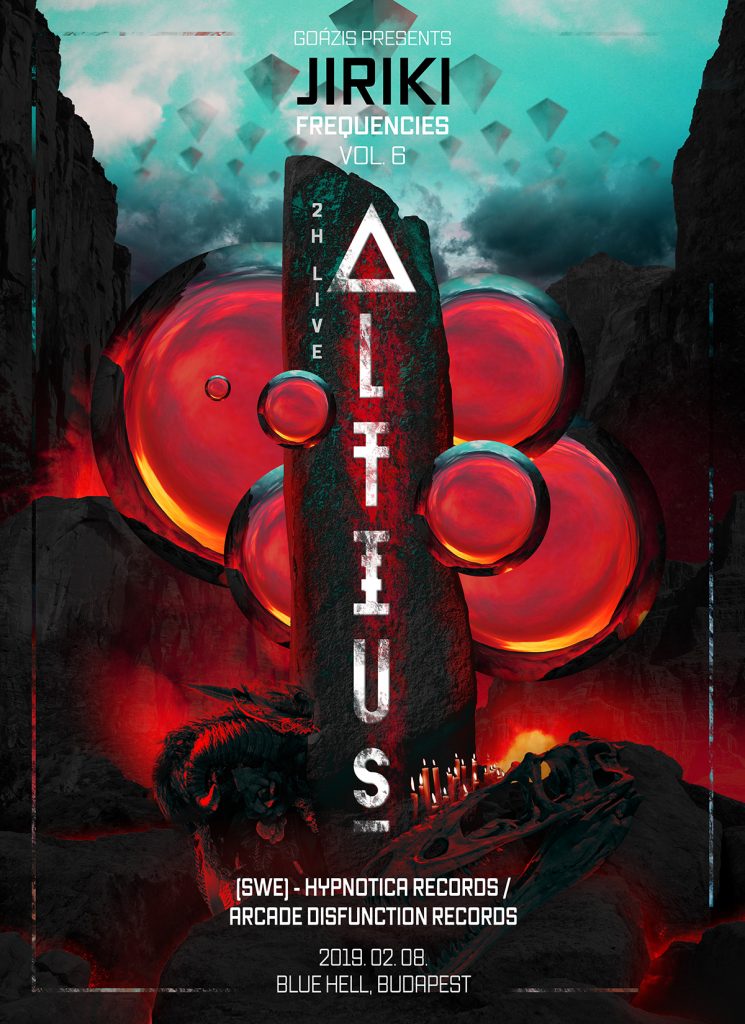 Jiriki Frequencies vol. 6
Talán legerősebb évünket tudhatjuk magunk mögött, de jövőre sincs megállás!
'Citius, altius, fortius!', ahogy a latin szállóige szól…
Ennek jegyében első 2019-es összejövetelünkre rögtön két külföldi vendég is érkezik a messzi északról, hogy megadják érzékszerveinknek, ami jár!
A svéd Hypnotica Records és a belga Arcade Disfunction Records képviseletében Altius döngöli földbe a nagyérdeműt egy 2 órás live szett keretein belül. A svéd pszichedelikus élet legtöbb megmozdulása Göteborghoz köthető, ahol ő is él és alkot. Jelenléte a szcénában régre nyúlik vissza, zenészként és szervezőként egyaránt, már-már őskövületnek mondható. Stílusa nem a legcizelláltabb, inkább karcol, mint simogat. Pont, ahogy szeretjük…
Az este első felében Mala'kak segítségére lesz még másik vendég előadónk, Elenayantra, – aki a HorsePower Productions és a Luminati Records csapatait erősíti – hogy mindenki elérje az üzemi hőfokot, mire párja belekezd.
A végére megmaradt agysejteket pedig a rangidős Alchimechanics szolgálja fel ezüst tálcán.
Maybe we had our strongest year behind us but we don't want and we can't stop next year!
'Citius, altius, fortius!', as the Latin saying goes…
In this spirit we invited 2 foreign guests to 2019's first gathering in order to deliver what our sense organs need and deserve!
Altius will kick our asses with a 2 hour long live set in the representation of Hypnotica Records from Sweden and Arcade Disfunction Records from Belgium. He lives in Gothenburg, the city in Sweden with most parties connected to the psychedelic scene. His involvement in making music and organizing parties goes way back, and he might be considered a relic by now. His style is not the most chiselled: rather scorching than caressing. Just the way we love it…
In the first half of the night Mala'kak will take Elenayantra's helping hand – whom You may know from HorsePower Productions and/or Luminati Records – to help everyone reach the optimal operating temperature before her partner in crime strikes up.
The remaining brain cells will be served on a silver tray by our ranking resident Alchimechanics.